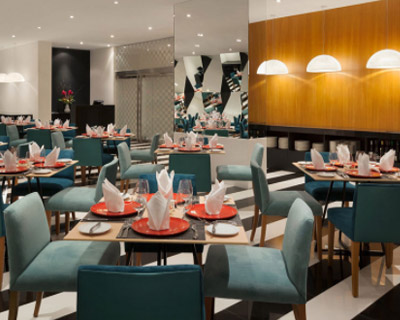 Application of Vastu principles becomes more important while planning a restaurant as it is important to prevent it from running into losses because of the problem with planning. You may face obstacles or invite troubles, if you do not plan your restaurant according to Vaastu Shastra. If Commercial projects like restaurants are constructed according to the Rules of Vastu They Run Profitably .
A restaurant constructed on the basis of principles of Vastu not only prospers in attracting customers but can earn goodwill as well.
A Restaurant Should always be square or rectangle Shaped.
The main entrance of a restaurant should always be in east, north or north-eastern directions.
The storage room for a restaurant should be built in the south-west corner of the building.
AC plant should preferably be installed in the south-eastern corner.
Electrical equipments such as generator, transformer and The Kitchen of the Restaurant should be placed in the south-east Side of the Restaurant .
Its Best Recommended to have a Fish Tank / or a Similar Water Feature in the North East of the Restaurant . This Ensures all year round Prosperity .
Also Washbasin can also be in the north-eastern or the North portion of the restaurant.
The placement of the kitchen of the Restaurant is of the Prime Importance and Its Only Allowed in the SOUTH EAST SIDE of the restaurant .
Its Best Recommended that the Cooks should face the East Side while cooking.
The staff at reception should sit facing North or the East Direction .
The North-east Side of the Restaurant should be kept clean and tidy to attract positive energy.
Toilets should be located in north-west or in the western direction of the restaurant.